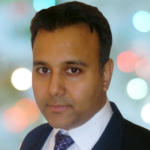 Sunit Khandelwal
Co-founder, Incwert
Sunit has over 17 years of experience in valuation advisory, transaction advisory and M&A advisory.
As a valuation professional, he has undertaken valuation of businesses for transactions, fundraising, strategic decision making and corporate restructuring. He has also undertaken valuation of intangible assets, option valuation, litigation support-related valuation, private equity portfolio valuation, and valuation for reporting purposes such as purchase price allocation and impairment test under IFRS and Ind AS.
In the past he has worked with KPMG India (as Associate Director), BDO, Grant Thornton, KPMG UK, and DBDBS a boutique M&A advisory firm.
Sunit is also an active speaker on valuation at the National Institute of Finance Management (NIFM) and has authored several of Incwert's publications.
Education, Licenses & Certifications
Member of The Institute of Chartered Accountants of India (ICAI)
Bachelor of Commerce, St. Xavier's College, Kolkata
Registered Valuer (IBBI)
Professional and industry experience
Sunit has worked across a range of sectors such as road and toll assets, infrastructure, real estate, FMCG, retail, engineering, clean energy, healthcare, IT/ ITeS, and other manufacturing industries.
Some of his assignments include:
Valuation of various investments of one of the largest family offices in Kuwait
Valuation of road assets of one of the largest infrastructure companies in India for the purpose of financial reporting regarding impairment testing
Valuation of road assets of a leading Indian conglomerate spanning diverse sectors including energy, resources, airports, transportation, hospitality and life sciences.
Valuation of a road asset in Bhubaneshwar for a transaction where a Kazakhstan based infrastructure company was involved
Valuation of a microfinance bank including valuation of financial instruments (compound instruments / embedded derivatives)
Valuation of ESOP for a microfinance bank
Valuation of investments for a leading online retail platform
Valuation of a manufacturer of high voltage insulators for a PE firm
Valuation of a Mining & Metals company for a listed power and steel company
Valuation review of a clean energy company for impairment testing purposes
Valuation of a leading auto component manufacturer for reporting purpose
Valuation for an auto component manufacturer for litigation support involving shareholder' dispute.
Valuation of a novel drug delivery system based pharmaceutical formulations company for financial reporting
Valuation of jointly held companies for resolving a family dispute.
Valuation of a leading eyewear manufacturing company to support it in litigation against minority shareholders