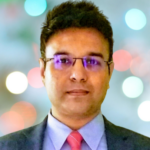 Punit Khandelwal
Co-founder, Incwert
Punit brings with him over 19 years of experience of working in sell-side and buy-side advisory - across equity and fixed income. He has worked on several bespoke valuations and has provided research support to dozens of asset managers/investment bankers/brokers /consulting firms across the globe. In the fixed-income segment, he worked as a fundamental analyst across the capital structure: leveraged loans, distressed debt, insolvency/bankruptcy situations and high-yield asset classes. He has also helped the sell-side firms & consulting firms to increase their market presence by coming up with thematic and white-label papers.
Before co-founding Incwert, Punit was heading the Research Vertical for Sutherland. In the past, he has worked with IMark Serv (head of research), Integreon (Director & Head of financial research & analytics), Adventity and Zacks Investment Research.
Punit has been a jury for various international inter B-school challenges like Global Credit Research Challenge which was held in association with the National Stock Exchange (NSE).
In January 2020, Punit was awarded 40Under40 by AIWMI.
Education, Licenses & Certifications
Member of The Institute of Chartered Accountants of India (ICAI)
Chartered Financial Analyst (ICFAI)
CFA Level 2 (US)
MS in Finance (ICFAI)
Bachelor of Commerce, St. Xavier's College, Kolkata
Registered Valuer with IBBI
Professional and industry experience
Punit has worked across a range of sectors such as financial services, infrastructure assets, power, healthcare, IT/ ITeS, and other manufacturing industries.
Some of his assignments include:
Valuation of a small finance bank for the purpose of internal restructuring
Valuation of a healthcare business of a listed company for business restructuring
Valuation of a listed IT/ITeS company for testing impairment
Valuation of a logistics company for business restructuring
Valuation of embedded rights in ORCPS issued by a Singapore based company
Valuation of a Power generating company for new share issuance
Valuation of a german auto manufacturer for FEMA compliance
Determination of swap ratio of a major textile company pursuant to the proposed business restructuring
Determination of value of differential voting right shares of one of the largest global cab aggregator company
Valuation of cross-currency interest rate swaps for a finance company
Determination of swap ratio of a listed company into a refractory business company pursuant to the proposed business restructuring
Valuation of road assets of one of the largest private InvT
Valuation of securities in a listed bank for transaction purposes
Valuation of the portfolio of a micro finance company